Sailing School Ships
Some people argue that sail training is anachronistic, and that the skills taught there are no longer needed in the modern world. True, few of us really need to know how to set and strike topsails, splice a halyard, or steer a ship at night on the South Atlantic from an open bridge. However, the main skills learned are teamwork, self-discipline and confidence -- still valid after all these years.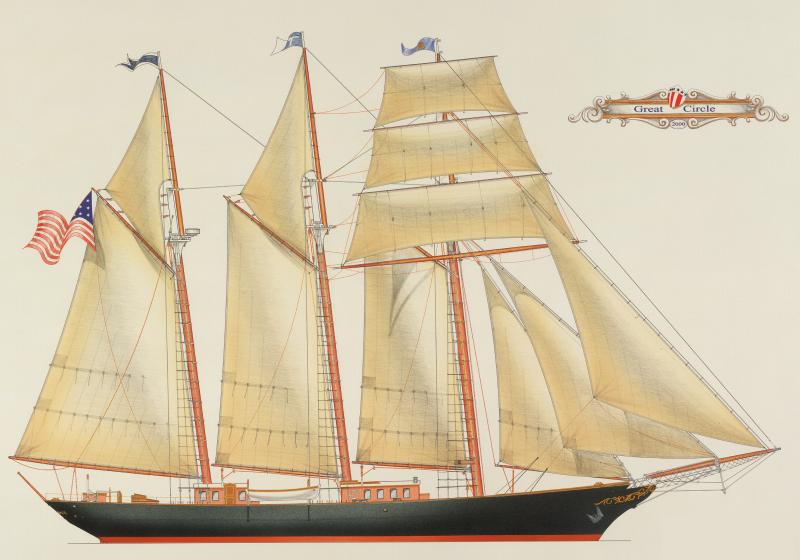 120' topsail schooner Great Circle
The fact is that modern SSV's spend most of their lives sailing coastwise and a vessel that is not handy, or can not go to windward under sail will simply spend most of its time powering. Likewise, the largest sailing school ships are prevented by their size and drafts from going to many desirable ports. That's why our new SSV designs are sharp schooners and barkentines with high sail area to displacement ratios and relatively little draft. Our latest design is a direct descendant of the clipper ships - the greatest sailing vessels of all times. Like her predecessors, she will have great power, speed and flexibility to sail in the ocean and coastwise. Unlike them, she will be equipped with efficient engines and modern communication equipment that will allow her to avoid hurricanes or just keep a schedule. Designed purely as a sail training ship, she will be a safe haven to her passengers and crew, an object of pride to her owners, and pure beauty to all who see her
There are no public SSV's in this country aside from the USCG Eagle. We believe that sail training is needed in this country, especially for troubled young men. On average it costs about $50,000 per year to incarcerate a kid in a correctional facility in the US. Wouldn't it be better to spent that money removing him from a corrosive environment and sending him to sea? What is more likely to allow a complete change in a young man's life -- a year in a juvenile jail or a year subject to the discipline of the sea?
Without a doubt, shipbuilding in the US was the most prolific and influential between the end of the Revolutionary War and the beginning of the US Civil War. This was Age of Sail and reached its peak during 1849 - 53 when wooden clipper ships broke records sailing around Cape Horn to San Francisco. These vessels, and their immediate predecessors the North Atlantic Packets, carried passengers across the oceans, operating without engines and largely without tugs. They evolved to be fast, weatherly and handy, qualities that were not designed for in the later bulk carriers.
Long after steam ships had taken over the passenger and high value freight trades, bulk cargos like coal, wheat and nitrate were still carried by sailing ship. By the end of the nineteenth century, these vessels grew to the then enormous size of 5,000 tons or more. They were relatively burdensome ships that were designed to sail economically before the wind. Unfortunately, many of the later bulk carriers actually became sail training vessels like the gigantic Kruzenstern. Even vessels designed specifically as sailing school ships were modeled after these freighters
Great Circle
Inboard profile
We designed this new sailing training vessel for the Ocean Classroom Foundation, which also owns the schooners Harvey Gamage and Spirit of Massachusetts.
Principal Dimensions
| | | | | |
| --- | --- | --- | --- | --- |
| LOA | 124 ft | | Draft | 12.5 ft |
| LWL | 100.0 ft | | D | 270 Ltons |
| Beam | 27.0 ft | | Cp | .62 |
| BWL | 25.3 ft | | Sail area | 6120 ft2 |
---
43m Barkentine Prime Meridian
Principal Particulars
| | | | |
| --- | --- | --- | --- |
| LOA | 43 m | Range (power) | 5000 n.m. |
| Beam | 9.1 m | Endurance (full complement) | 30 days |
| Draft | 4 m | Construction | mild steel |
| Displacement | 350 tonnes | Classification | Lloyd's +100A1 |
| Speed (power) | 12 knots | Type | Barkentine |
| Speed (sail) | 14 knots | License | US SSV All Oceans |
last updated 5/16/2002